Open Monday, Thursday, Friday, Saturday 12-5 p.m.
NOTICE
Our website shopping cart is for shipping items only. If you would like to pick up items at the pick-up window please call 207-363-1300 or email Sandra or order at the window when you arrive.
We have all your Easter essentials - from our kitchen directly to you!
---
Quick Selection - Click on an Image
---
Divine Easter Basket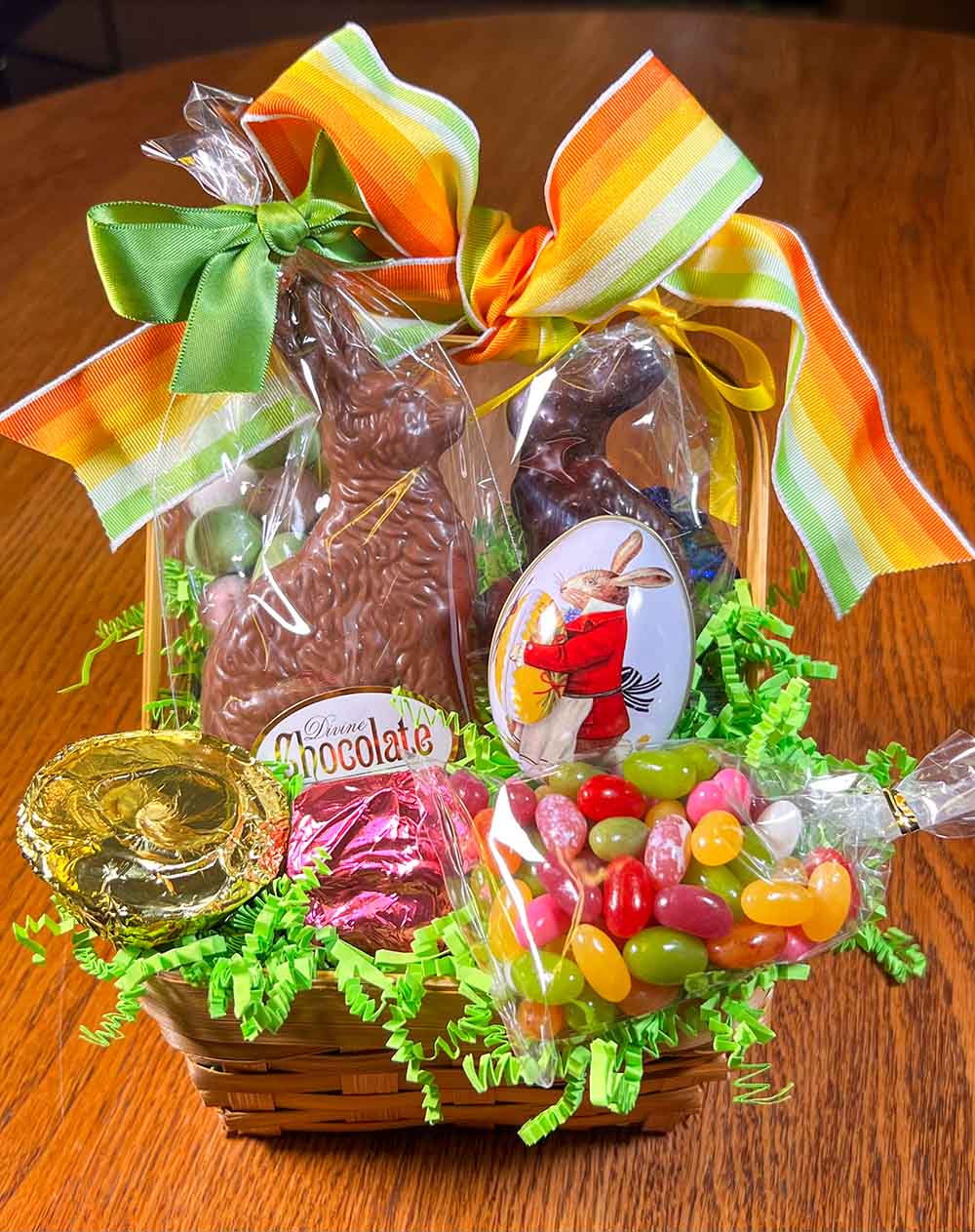 Our Divine Wooden Easter Basket is a larger version of our Mini Basket and is sure to delight everyone's taste buds. Contains: one Belgian 3 ounce milk rabbit, one dark Mini Rabbit, one large foil wrapped Divine Milk Peanut Butter Cup, two foil wrapped Divine Caramels, a 4 ounce bag of jelly beans and a 4 ounce bag of speckled marshmallow eggs and a Victorian tin with chocolate surprise. All baskets come wrapped in a cello bag with bow. $44.95
---
Mini Easter Basket
Our Divine Mini Easter Basket is a delightful sweet treat. Contains: one Belgian chocolate mini basket rabbit, one foil wrapped mini peanut butter cup, one foil wrapped caramel, one 4 ounce bag of jelly bean and one 4 ounce bag of chocolate marshmallow eggs . All baskets come wrapped in a cello bag with bow. Choose all milk or all dark chocolate.
---
Divine Chocolate Rabbits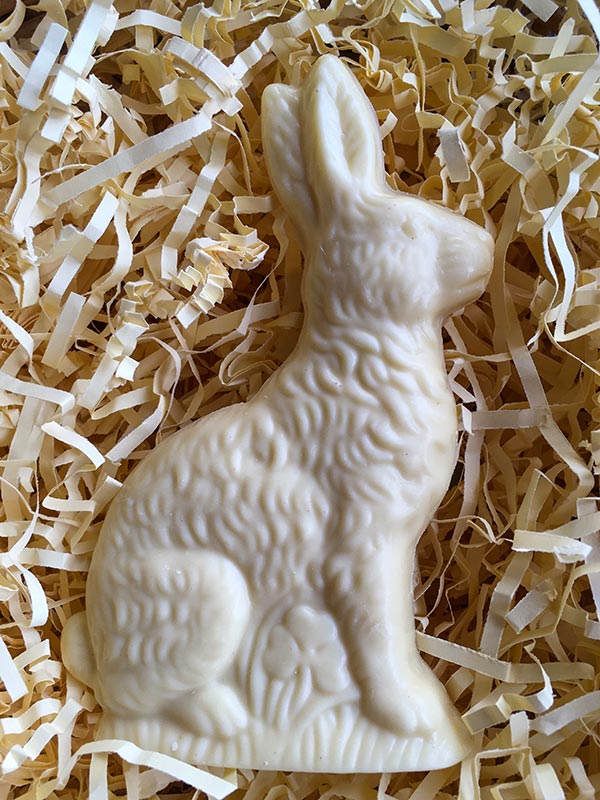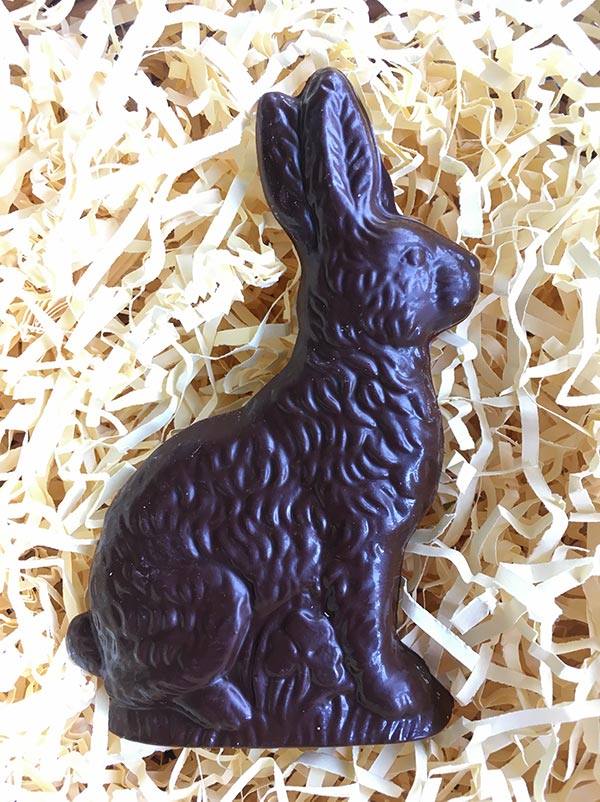 Divine Rabbits are made in our kitchen. They are delightful as gifts and delicious treats for all ages. Each is 3 ounces and 5.25 inches tall. $10.99. Each is wrapped in cello with ribbon.
---
Rabbit with Basket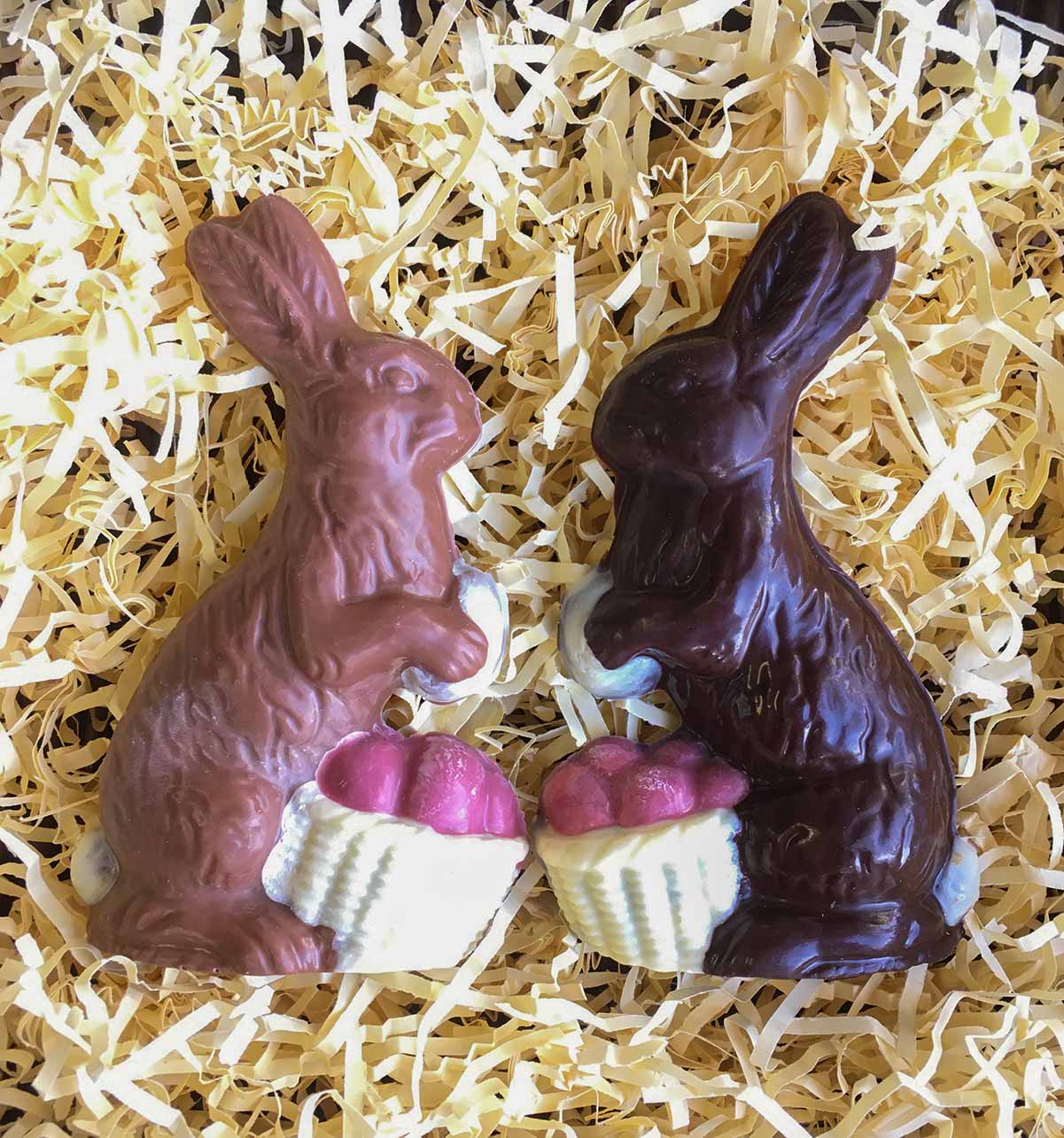 Our basket bunnies are adorned with three delicious Belgian chocolates. Choose milk or dark. Each is 6 inches tall and weighs 1/4 pound. Each comes in a cello bag with ribbon.
---
Rabbit Pops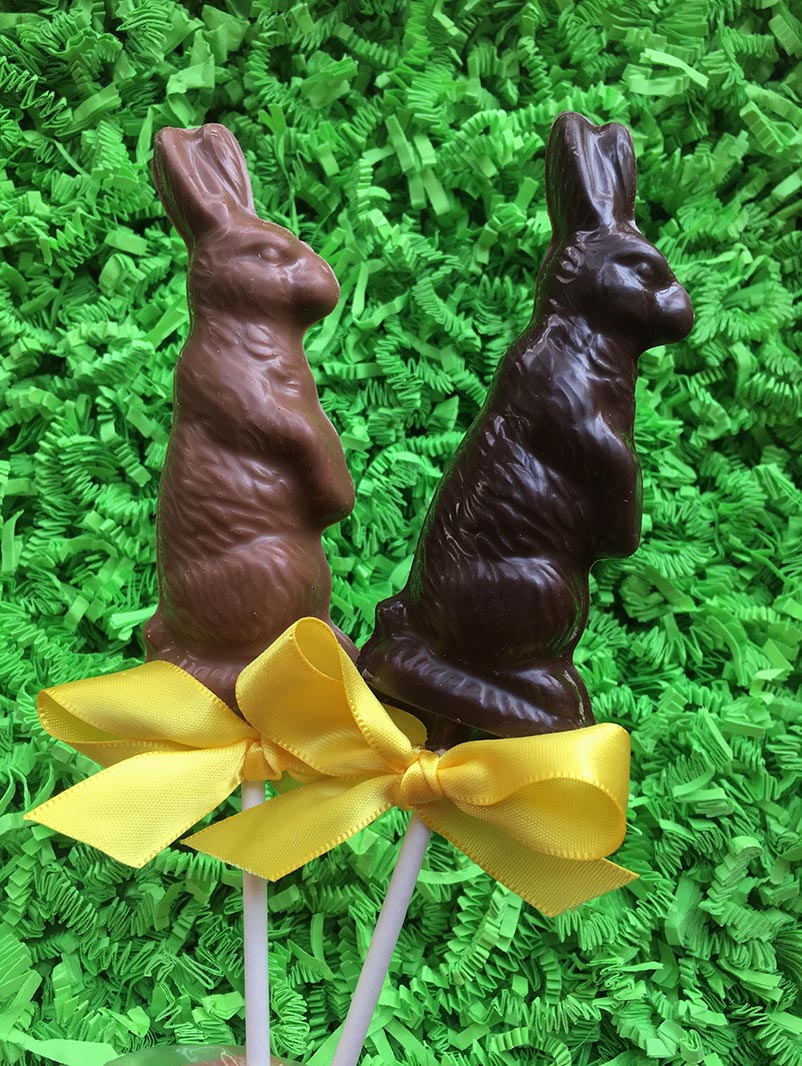 Each rabbit pop comes in a cello bag with ribbon.
---
Mini Basket Rabbits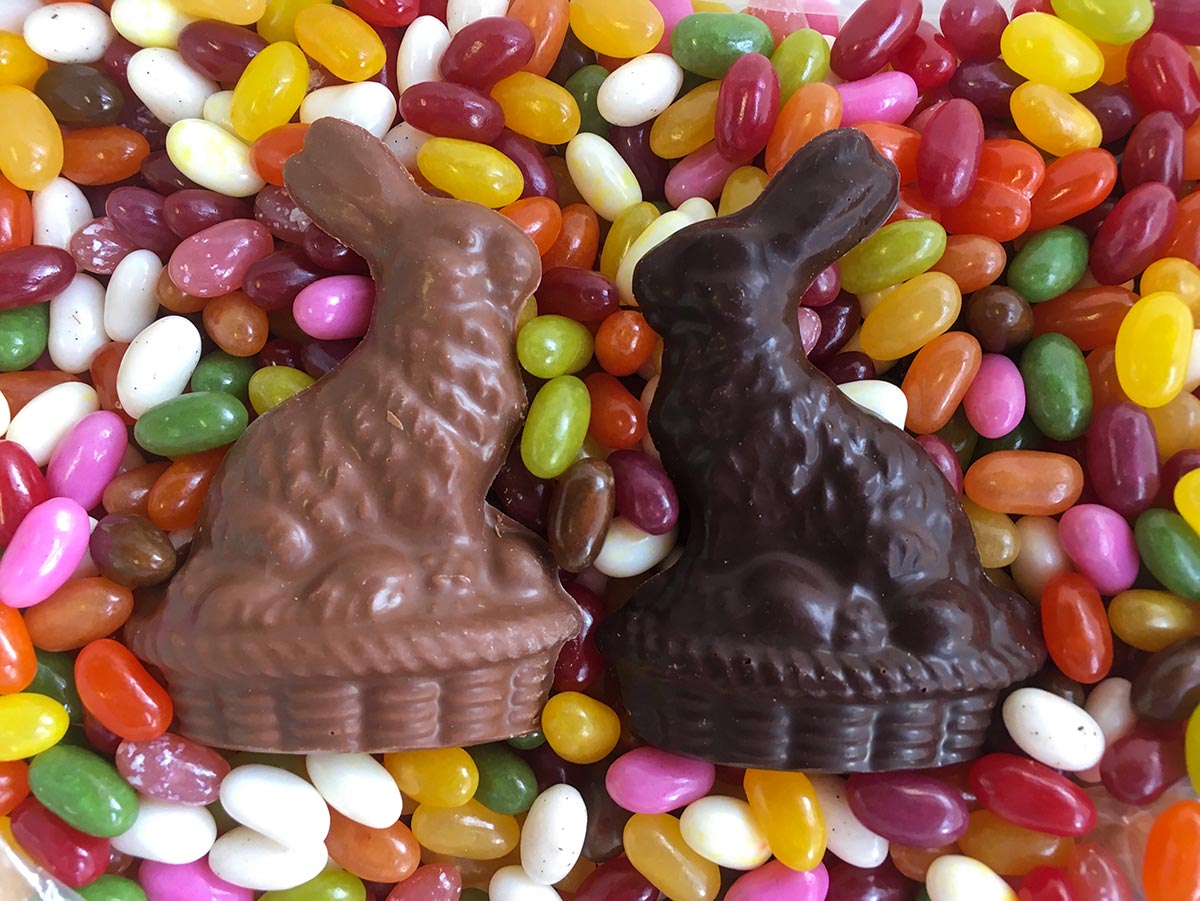 A mini basket rabbit is sure to please. Offered in milk or dark Belgian chocolate. 1.5 ounces and 3.5 inches tall. Jelly beans sold separately, see below. $4.99 Each comes in a cello bag.
---
Assorted Jelly Beans
Try our delicious 1/2 pound assortment of jelly beans $8.50
---
Speckled Marshmallow Eggs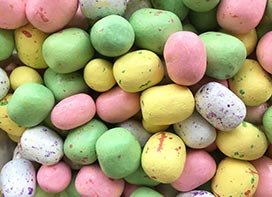 These always popular treats can be counted on to satisfy the sweetest tooth! 1/2 pound $7.99
---
Speckled Malt Eggs
The familiar taste of malt balls in an array of spring colors will make these speckled eggs a favorite! 1/2 pound $7.99
---
Oreo Rabbit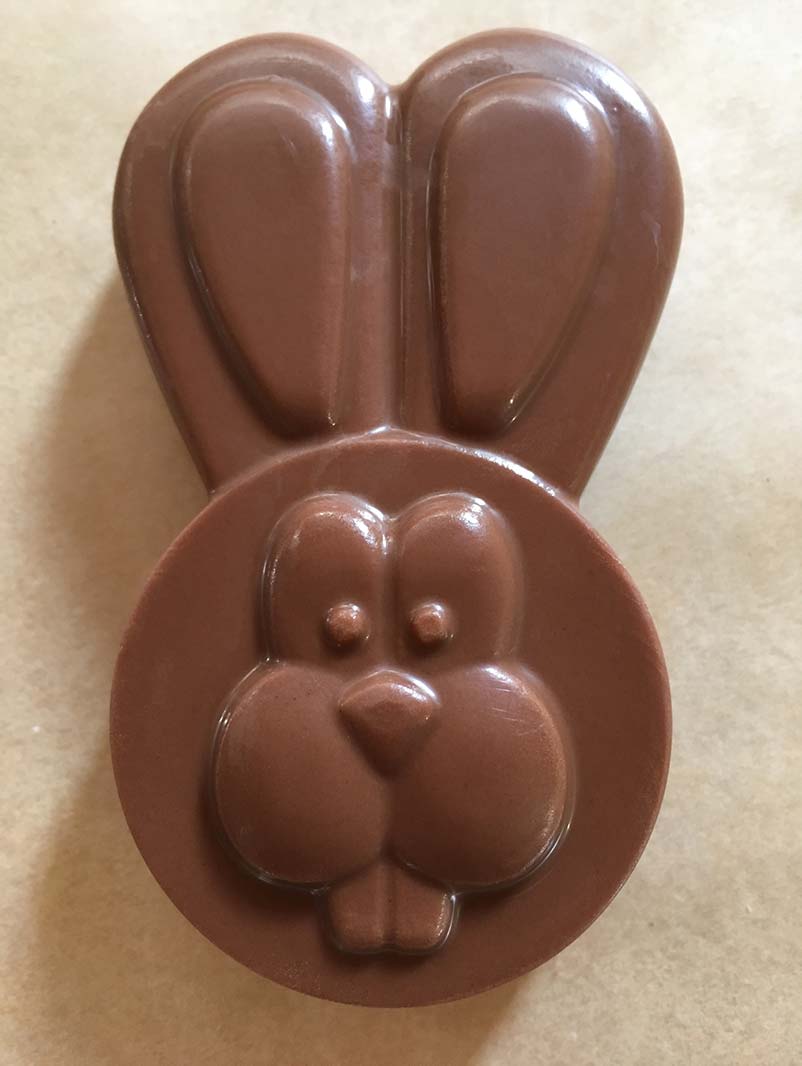 This molded bunny is hiding a delicious Oreo cookie! Everyone's favorite cookie is enrobed in milk chocolate only. Each comes in a cello bag with ribbon
---
Your Favorite Chocolates in One Box
Each box is created with a variety of our Belgian Chocolate favorites and will include our famous turtles, truffles, barks, caramels, mini peanut butter cups and more. You will also find seasonal favorites. Our chocolate is made just for you, with love and care.
This assortment is a favorite gift item as it has a nice variety of time proven favorites.
---
Almond Buttercrunch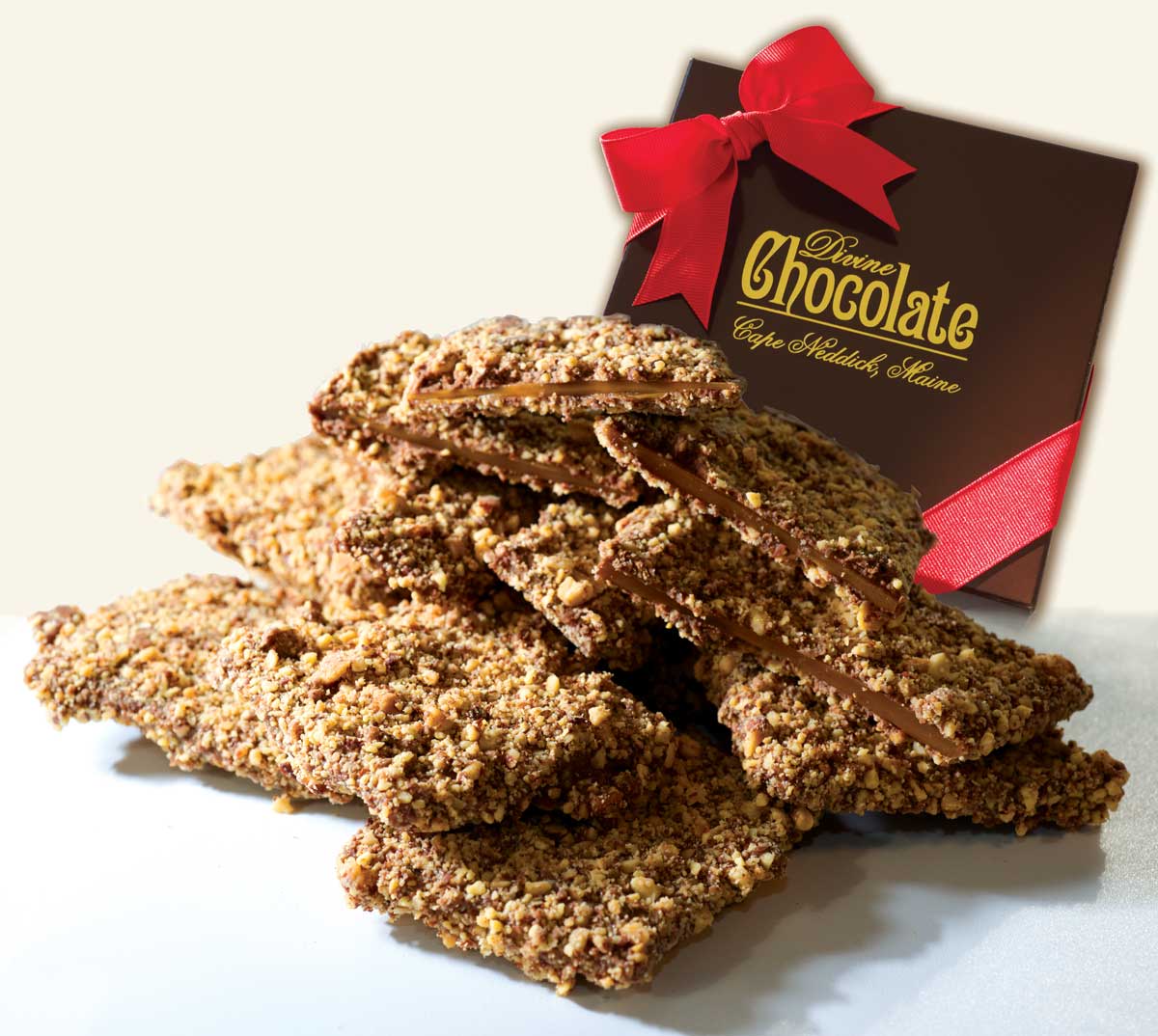 Our Almond Buttercrunch has turned out to be one of our top sellers. We always have free samples here at the shop and once a customer tries a piece they are hooked! Fresh salted almonds, not too crunchy toffee and Belgian milk chocolate make this a customer favorite.
---
Chocolate Turtles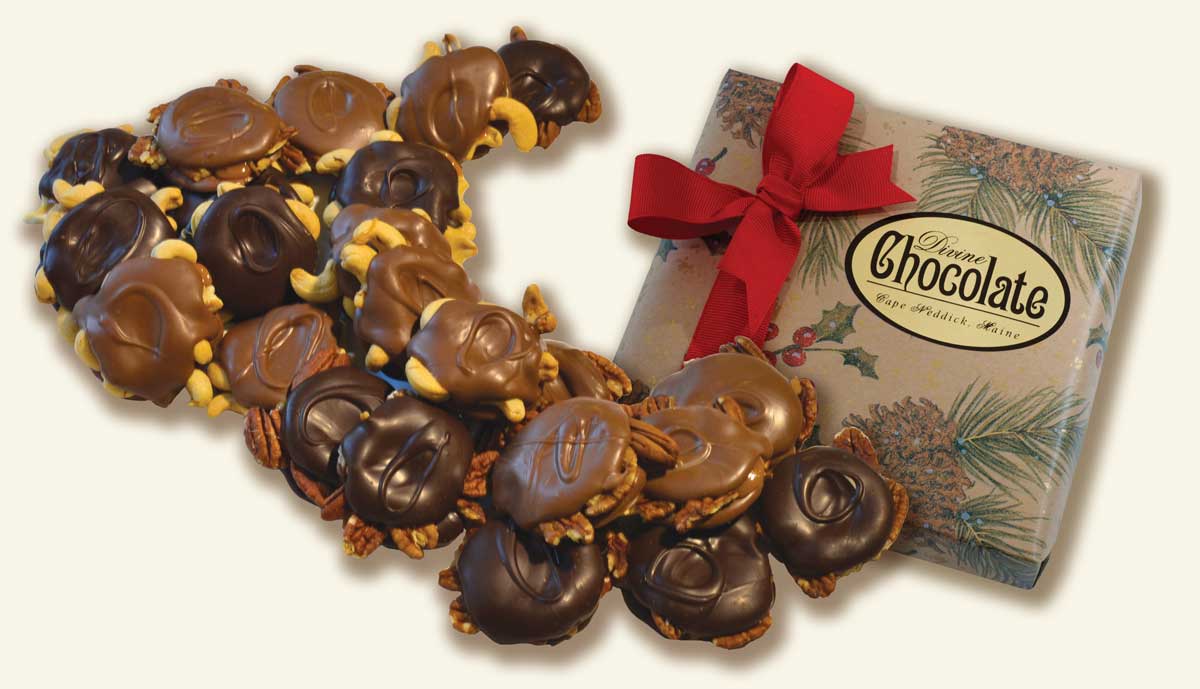 Everyone loves our rich and smooth Belgian Chocolate, soft caramel and fresh nuts combined into our famous turtles. Seriously, these are sooooo good! You can choose milk or dark chocolate, pecan or cashew.
For your info: A 10 ounce box contains 5 turtles. A one pound box contains 9 turtles. Gift wrapping is no longer available.
---
Milk or Dark Non-Pareils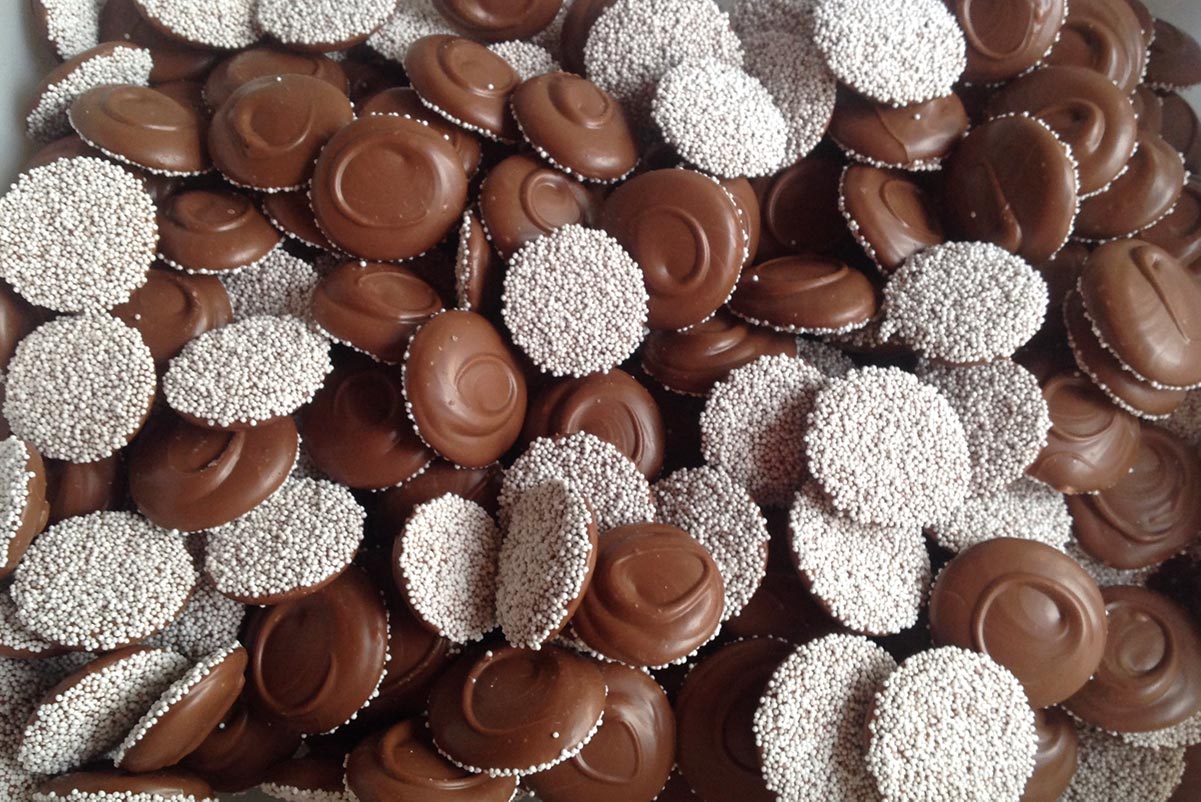 Old fashioned non pareils evoke much nostalgia. Ours are even better, crafted with Belgian chocolate
---
Wild Blueberry Bark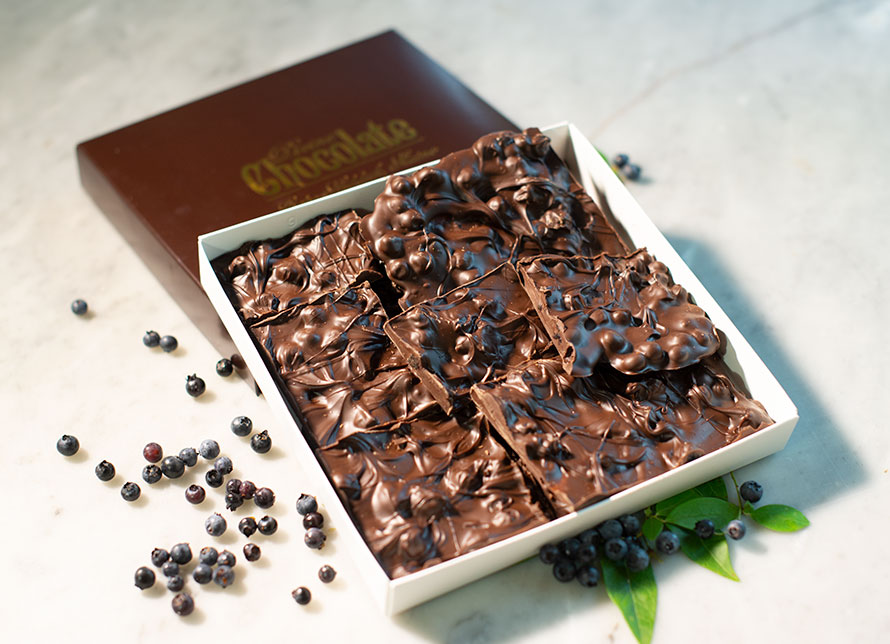 Incredible dark or milk Belgian chocolate with dried wild blueberries.